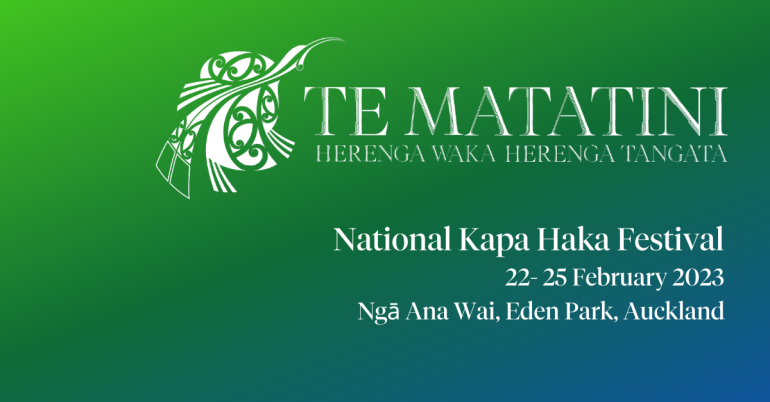 Te Matatini
14 February 2023
VISION MOEMOEĀ
"Mā tini, mā mano ka rangatira a kapa haka."
Kapa haka flourishes through the efforts of many.
From 22 February 2023, Tāmaki Makaurau will come alive with vibrant sights and sounds of the biggest kapa haka event in the Māori calendar, Te Matatini. The festival will be held over four days at Ngā Ana Wai Eden Park, the first time this prestigious competition has been hosted in Tāmaki Makaurau since 2002.
Te Matatini is held every two years, in a different city every time. It is one of the most highly anticipated events for performers, their whānau and the mass of passionate kapa haka fans throughout the world. The festival prides itself on being whānau friendly, smoke, and alcohol-free event. It has an open-door policy, where all people are welcome to come and experience the timeless tradition and spectacle of Kapa Haka.
Kapa haka is the major artform through which Māori can access and express their cultural identity in te reo Māori, sharing their unique narratives through the beauty and power of waiata and dance. Kapa haka groups around the world look forward to Te Matatini as the pinnacle event to showcase the very best of the best. Te Matatini turned 50 in 2022, so the 2023 festival also celebrates this incredible milestone.
Competition among the rōpū (teams) from across the motu and beyond will be fierce and passionate. It will be the culmination of years of hard work, especially poignant due to Covid restrictions delaying the festival twice.
With unswerving dedication to bring their best to the national stage and bring a fresh, creative approach to captivate the judges and audiences, the teams have spent thousands of hours composing, learning and rehearsing, first to qualify at their regional competition, then to prepare a single performance compressed into thirty minutes for the national stage. In the end, it is all worth it to go after the supreme title of Toa Whakaihuwaka (overall winner).
New songs and arrangements are a tightly guarded secret until the big reveal on the day, and many will go on to become instant hits or viral sensations.
The values of 'Te Matatini' are represented in the stylised and symbolic Huia icon, where the Huia bird represents:
Beauty
Leadership
Excellence
Prestige
With the redesign of the Te Matatini brand, the reconnection of iconic tohu, the Huia, reinforces the values of 'Te Matatini', fostering development, progression, the flight of 'Te Matatini' towards excellence and leadership in all aspects of Kapa Haka and Māori Performing Arts.
The colour palette emulates the shimmer of tones of the Huia that are reflected from the light that gleams from the movement of the manu.
You can find more information and book your tickets for the biggest 4-day cultural extravaganza that Aotearoa has seen since 2019 here! https://tematatini.co.nz/