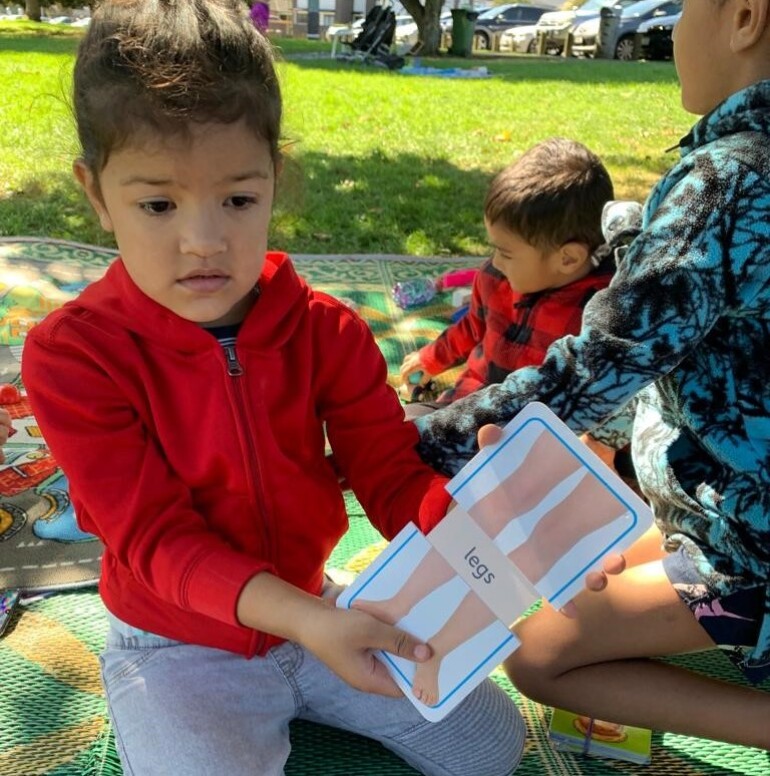 Talking Reading Writing - Making It Fun
14 May 2023
Your child's learning starts the day they are born. They will learn at home, with whānau (family), in your community, and with their Educator/Nanny (Kaiako – teacher). Parents are children's first teachers. There are lots of ways you can help your child to learn. One of the most important things you can do is to talk with your child. This gives them the best possible start for a lifetime of learning. It's always good to talk to your child in your home language, using the words you feel most comfortable with.
Most of all, young tamariki (children) learn through play and through everyday activities. When you play with your child and include them in your daily activities, you are helping them to learn. Language is the key to all your child's learning. When children are with their Educator/Nanny, activities like talking, singing, playing, listening to stories, and drawing help your child to build the skills they need for learning to read and write. Educators/Nannies (Kaiako) will talk to your child and encourage them to talk about what they are doing. They will read stories and sing nursery rhymes, play word games or rhyming games, and sing waiata together.
Here's some things we can do together to support tamariki:
Have back and forth "conversations" with your baby or toddler. Notice their actions, sounds, words, and what they're looking at, and respond to these.
As soon as your baby can hold objects, give them books made of fabric or cardboard to play with. Don't worry if they put the book in their mouth – they learn from doing that, too. Talk to them about the pictures in the books – infants soon learn to recognise pictures of familiar things.
Talk to your child about what they're interested in. Once they start using words, keep the conversation going.
Talk and sing with your child in your home language, and use the words you're both most comfortable with. Talk about the everyday things you're doing, and encourage them to tell you about what's happening.
Look at picture books together, and read stories to your child. Make it fun. Very young tamariki (children) might only want to look at books for a few minutes, and that's OK. They're still learning about how books work.
Sing songs and tell stories from your own culture. You could use puppets or soft toys to help tell the story.
Go to the library and let your child choose the books they want to take home. It's free to borrow children's books from the library. Your local library might have free story times for tamariki, too.
Encourage your child to draw and make marks – for example, with pencils, crayons, paint, or chalk. It doesn't matter at all if the picture doesn't look like anything you recognise.
With your child, look out for letters and words around your home and when you go out. For example, you could look for the first letter of your child's name.
This information is taken directly from Ministry of Education's Learning Together brochure. It's available in 17 different languages available here: https://parents.education.govt.nz/early-learning/early-childhood-education/early-learning/