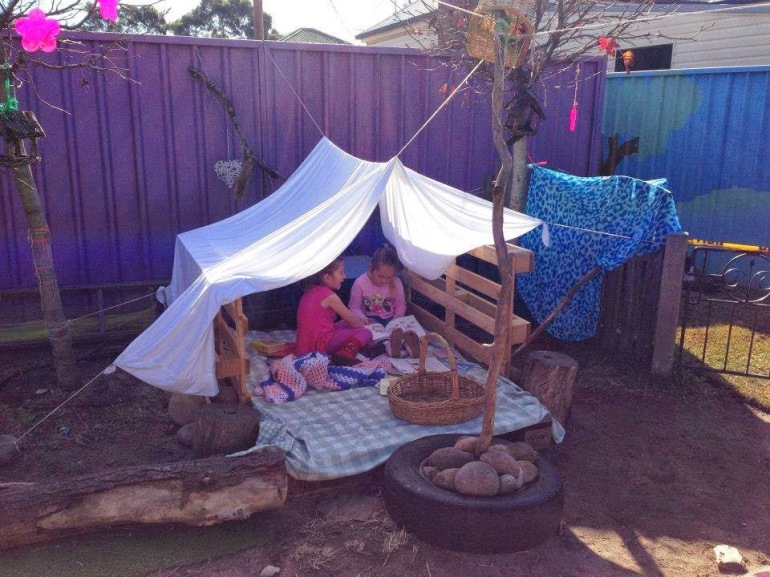 Play in a Homebased Environment
28 August 2015
Resources and equipment for children to learn and play with can include home-made, natural, or shop-bought. Resources can also be fit for one purpose (for example a wooden puzzle) or resources might be suitable for a range of purposes (such as a collection of cardboard boxes or collage material). Ensuring the environment is welcoming, stimulating, and a variety of resources are available for play and learning can help settle a child through the transition from home to their Educator, and helps to set the scene for the day. Encouraging children to make choices and decide how and what their play will be means we don't have to set up the resources as a pre-planned game, but we can ensure there is a variety of resources easily accessible within the child's reach.
Educators can provide a variety of resources in their own home to create opportunities for children to grow, learn and explore at their own pace. There might be a range of bought, purposeful resources such as books, puzzles, or board games. There might also be activities such as threading, sorting, counting, and artwork using materials found around the home or created by children.
Other opportunities for play and learning exist around a home such as children having access to safe kitchen utensils such as mixing bowls, spoons, and pots. Young infants can use this for discovering new objects whilst older children may set up pretend family play using these as props. In the lounge, huts may be created under furniture that is sturdy and safe and children use this space as a quiet area to read and communicate with each other. For young infants, spaces such as these are inviting to crawl under as they discover new and exciting environments.
Outside, our natural environment provides a range of opportunities to explore, grow and learn as children engage in learning about nature through gardening, collecting natural resources for discussion, sharing or artwork, or nurturing a pet animal.
Nurtured at Home supports Educators with a toy library, and these resources are designed to supplement those already provided by Educators. These are loaned on a fortnightly basis with usually 2-3 items loaned at a time. This ensures that all Educators can access a range of different resources that can be swapped on a regular basis to stimulate the interest of children in care.
Coupled with our toy library, we also provide Educators with hand-made resources that they keep as part of their educational kit. Over time, this means our Educators are able to build a resource kit with a focus on promoting numeracy and literacy through rhyming stories, song/waiata, number and letter recognition.
To ensure children can engage in a stimulating environment to promote play and learning, means that children have ongoing and easy access to a range of resources around the home, including items in the home for family and/or pretend play, physical activity, imaginative play, along with purposeful resources to promote numeracy and literacy. Some of the most creative learning comes from children engaging with the world around them, supported by nurturing adults spending quality time with children and engaging in respectful discussion.