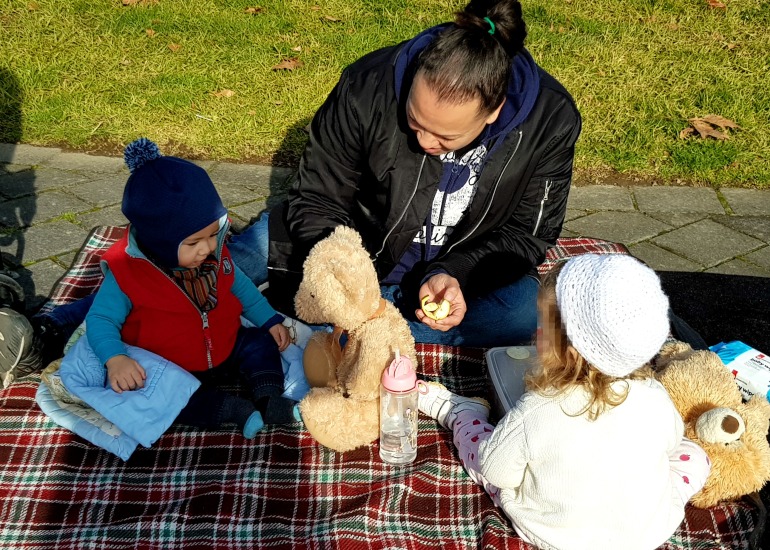 Outdoor Winter Play
9 July 2018
In winter, it's tempting to keep warm inside, although there are benefits to children playing outdoors even when it's cold. Children will more likely keep active all year round when they can play outdoors and with the right clothing and protection from the weather this can be a fun experience.
Children feel connected to the natural world and the changing seasons when they experience this first-hand. For example, children can interact with falling leaves, wonder at trees blossoming, scavenge for leaves, bark and seeds that have fallen to the ground, and delight in plants that rise from the ground again in Spring. In addition to this, children learn about the varying weather throughout the year by seeing it and interacting with it, and understanding the impact this has on our environment.
The New Zealand Ministry of Health notes that active play during the first five years of life is essential to the health and future wellbeing of children. It is so important it is recognised under the United Nations Convention on the Rights of the Child. Sitting less, moving more and sleeping well are important for healthy weight gain, mental health, behaviour, improved movement, competence skills and brain development including communication skills, higher emotional and social functioning, and the ability to make good decisions. It is vital for the development of physical movement skills that will provide a platform for learning more complicated skills in the future.
The 'move more' strategy includes:
Provide fun activities that support physical, social, emotional and spiritual growth (at least three hours every day for toddlers and preschoolers, spread throughout the day).
Include plenty of opportunities for active play:
that develop movement competence and confidence
that provide sufficient challenges to build resilience and encourage creativity through exploration
where children are by themselves as well as interacting with others, such as parents, siblings, friends, whānau/family and other caregivers
that include a variety of indoor and outdoor activities, especially activities involving nature.
Here's some tips for keeping safe playing outdoors:
Be SunSmart - sunscreen, shelter, hats and suitable clothing.

Supervise – ensure children area actively supervised around water, heights, steps, fences, animals or small objects.

Clothing - dress children in clothing and footwear that is suitable for being active.

Water - ensure children drink plenty of water when playing outside, particularly in hot weather.

Join in - join in with children's play, let them take the lead, and support them in outdoor play.