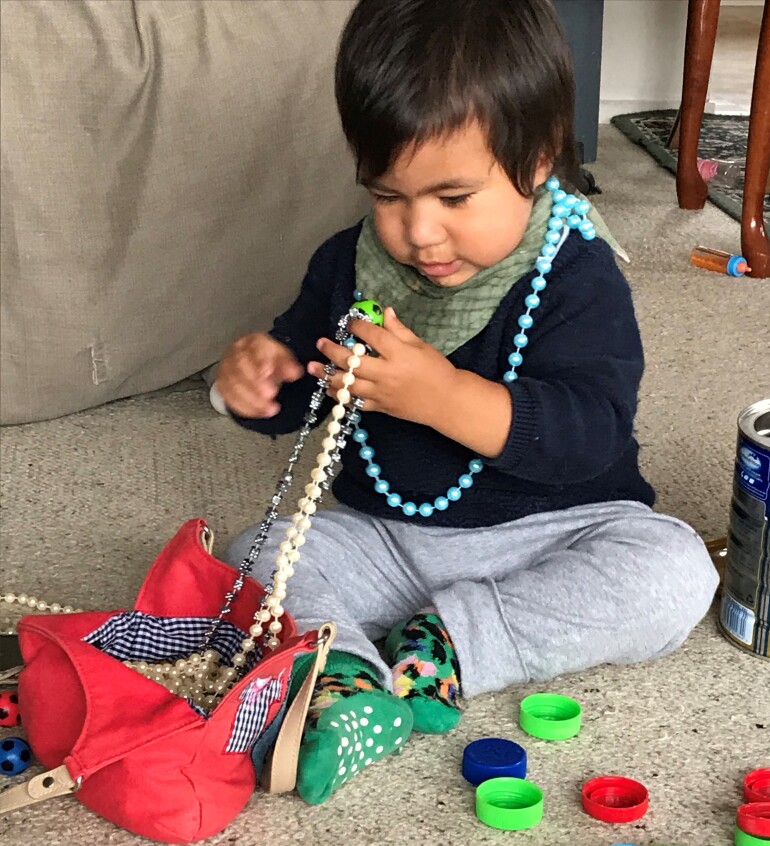 Open Ended Play
25 June 2021
Has your child ever received an amazing toy, only to be more excited about the box, bubble wrap or cardboard surrounding it than the actual toy itself. Children are naturally curious and filled with wonder, which is why they enjoy exploring everyday items that they can play with in a variety of ways. Items like this are called loose parts, or open-ended items, and provide children with the tools to select, explore, manipulate, and compare items with each other.
During this type of play, children are engaged in their own learning while building on their own opinions about what the objects can and can't do. For babies and toddlers, heuristic play revolves around them using their senses and exploring real world objects made from any material that comes from nature and around the house.
Here's how you can create some baskets or kete filled with a range of everyday objects for children to explore:
Firstly, find a low-sided basket, box or tin that children who are not yet sitting can reach into. Fill it with 10-20 real-life objects. Over time, add and rotate items to help encourage new and different learning experiences and to keep interest high.

Examples of objects to put in your heuristic (or treasure) basket include:
Egg boxes, small boxes with lids, cardboard tubes, greaseproof paper
Preserving jar rings, rubber door stops, corks, rubber balls, measuring spoons.
Napkin rings, metal teapots, metal whisks, keys on a ring, metal cookie cutters.
Shower puffs, bottle brushes, pieces of flannel or material, coloured ribbons, pastry brushes.
Pumice, coconut shells, large pebbles, driftwood, bark, pinecones, feathers.
Wooden bowls, wooden spoons, wooden pegs, wooden curtain rings.
Small mirror, bells, measuring spoons, tea strainers.
Setting up the play area:
For heuristic play to be effective you need to set up a relaxed atmosphere, placing the basket in an uncluttered space with all other toys cleared away. Make sure this isn't something that is out all the time but something you put out a couple of times a week to keep them interested and that your baby or toddler doesn't tire of the objects.
Your role as an adult:
An adult's role in heuristic play is to sit back and be unobtrusive, interacting only when invited. Children should be able to move freely and at their own pace and explore the parts and pieces that delight and interest them. During heuristic play children need to be actively supervised and items provided should be appropriate to a child's age and stage to prevent choking or injury.
Beyond treasure baskets:
Day to day life also offers a platform for heuristic play. Simple ideas include playing with clothes pegs in a container, playing with objects in a small bowl of water or even banging saucepans with a wooden spoon to explore sound. Being outside provides a natural heuristic space for babies and toddlers too. They can grasp at grass, leaves and flowers in the garden, or play with sand and seaweed at the beach.
There's so much to discover!
inspired by article in Under 5s - For Parents with Babies, Toddlers & Preschoolers