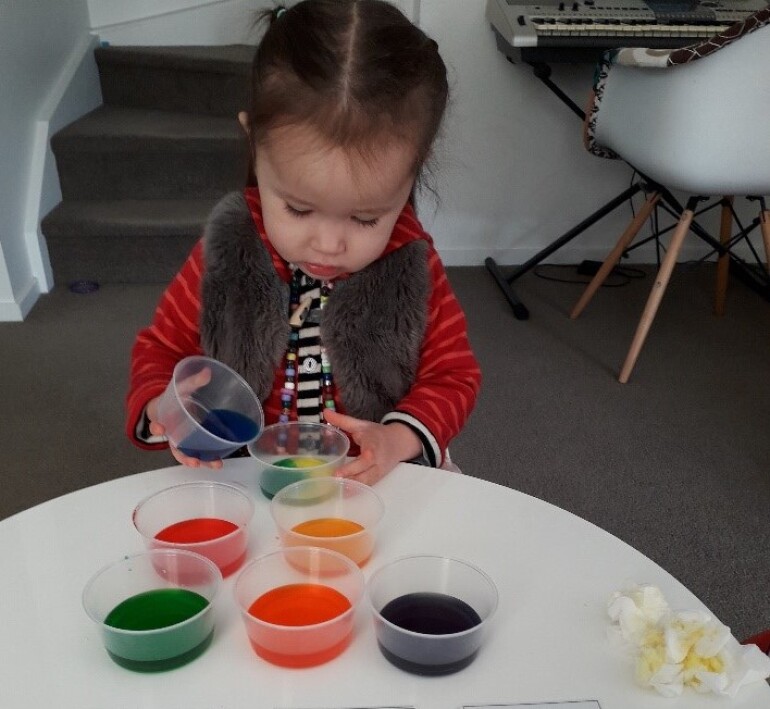 Mixing and Making Colours
7 September 2020
At Nurtured at Home, we provide different resources each month for our Educators and tamariki to use and explore. These resources could be used by Educators individually, or the resources could be combined to create other interesting ways for children to play.
In May the resource for Educators was te reo Māori colour matching cards and then in June we provided a science booklet full of interesting experiment ideas. Within these science activity ideas, there was one showing how tamariki could make new colours by combining three primary colours (red - whero, blue - kikorangi and yellow - kowhai). By utilising both months' resources together the science experiment became visually more attractive and inspirational.
Here are the step-by-step instructions that you could also try at home:
Firstly, choose a sturdy table with a mat underneath as food colouring can stain.
Lay out colour cards and name the colours with children using English, te reo Māori, and their home language.
Talk about the colours to arouse children's interest and encourage them to do a fun experiment together.
With children's help, prepare 7 transparent cups with some water in them.
Provide red - whero, yellow - kowhai and blue - kikorangi food colouring for children to add to just three individual cups of water.
Guide children to pour a bit of red and yellow to another cup to make orange – karakaraka; pour a bit of red and blue to make purple – poroporo; pour a bit of yellow and blue to make green - kakariki (or use droppers).
The last cup, encourage children to mix colours freely and see what will happen (most likely they will make black - pango colour by mixing all the colours in).
Encourage free play and exploration with the colours.
We hope this type of play will inspire your thinking, so that you might come up with more ideas for children to enjoy.