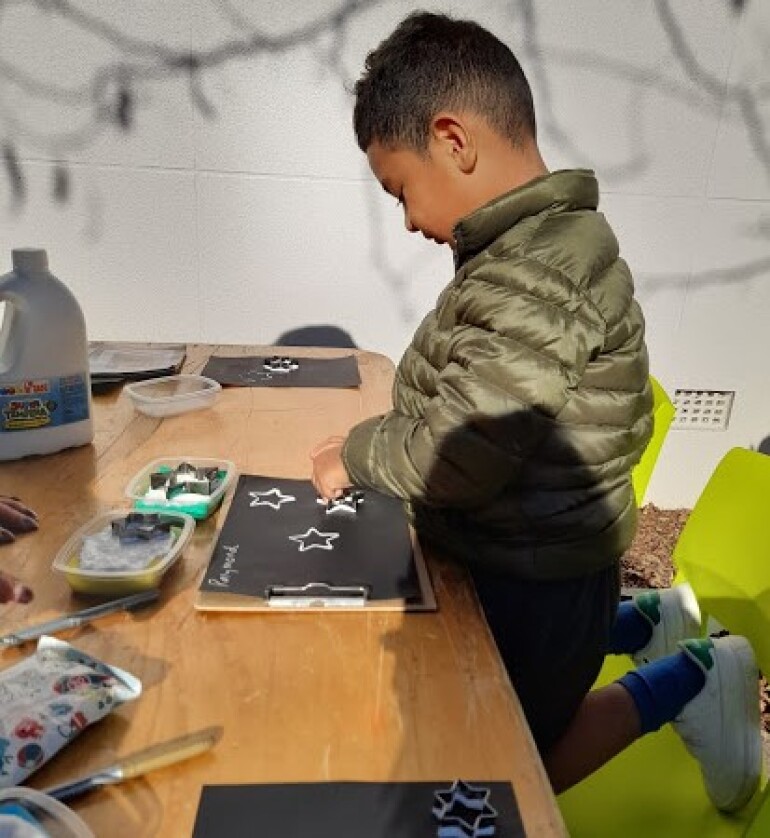 Celebrating Matariki
17 July 2021
Whakanuia te tau hou Māori, 19 o Pipiri ki 11 o Hōngongoi 2021.
Through June and July, we have been celebrating Matariki in a variety of ways at our playgroups and Discovery Days. Our Educators, tamariki and whānau have come together to learn about and celebrate Matariki. This has provided great opportunities for us all to strengthen our relationships, support each other, and learn about Aotearoa's culture. It has also seen a variety of cultures share their own celebrations and find similarities between their own and that of te ao Māori.
Here's some of the activities our Educators, tamariki and whānau were engaged in over this time that you also might like to do at home:
Making vegetable soup
Creating paper stars to float in water
Making and decorating star cookies
Flax and wool weaving
Making fry bread
Creating starry night skies with playdough and star shapes
In homes, our Educators have set up interactive play spaces for tamariki to engage with Matariki celebrations for an extended period of time with resources such as books, star displays, and storytelling props.
Matariki is the Māori name for the cluster of stars also known as the Pleiades. They rise in mid-winter and herald the start of the Māori new year.
Our tūpuna (ancestors) would look to Matariki for help with their harvesting. When Matariki disappeared in April/May, it was time to preserve crops for the winter season. When it re-appeared in June/July, tūpuna would read the stars to predict the upcoming season – clear and bright stars promised a warm and abundant winter while hazy stars warned of a bleak winter.
We're looking forward to Matariki becoming a public holiday in 2022 so we can continue to celebrate this event.