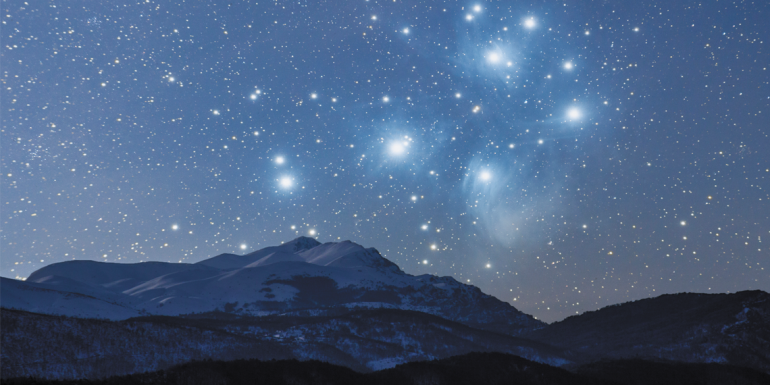 Celebrating Matariki
1 July 2020
Matariki is the Māori name for the cluster of stars also known as the Pleiades. They rise in mid-winter and herald the start of the Māori new year.
Our tūpuna (ancestors) would look to Matariki for help with their harvesting. When Matariki disappeared in April/May, it was time to preserve crops for the winter season. When it re-appeared in June/July, tūpuna would read the stars to predict the upcoming season – clear and bright stars promised a warm and abundant winter while hazy stars warned of a bleak winter.
Because Māori follow the Māori lunar calendar, not the European calendar, the dates for Matariki change every year.
Traditionally Matariki was a time to remember those we had lost in the previous year. It is also a happy event - crops had been harvested and seafood and birds had been collected. With plenty of food in the storehouses Matariki was a time for singing, dancing and feasting.
Different areas of New Zealand celebrated Marariki at different times. Some held festivities when Matariki was first seen in the dawn sky and others after the full moon rises or at the beginning of the next moon.
A tradition of storytelling: Matariki is a great time to encourage children to tell the stories of where they live, what is special to them, and who the people are in their whānau. Educators can document stories using the child's own words, so they can be retold and shared with others.
A special activity to celebrate Marariki with our tamariki is the flying of kites. According to custom they flutter closer to the stars.
A nice contribution is for the parents to create a star for their child and write on what they acknowledge their child is good at. All the stars can be displayed to create a twinkling night sky.
Matariki atua ka eke mai i te rangi e roa,
E whāngainga iho ki te mata o te tau e roa e.
Divine Matariki come forth from the far-off heaven,
Bestow the first fruits of the year upon us.
Information from www.teara.govt.nz