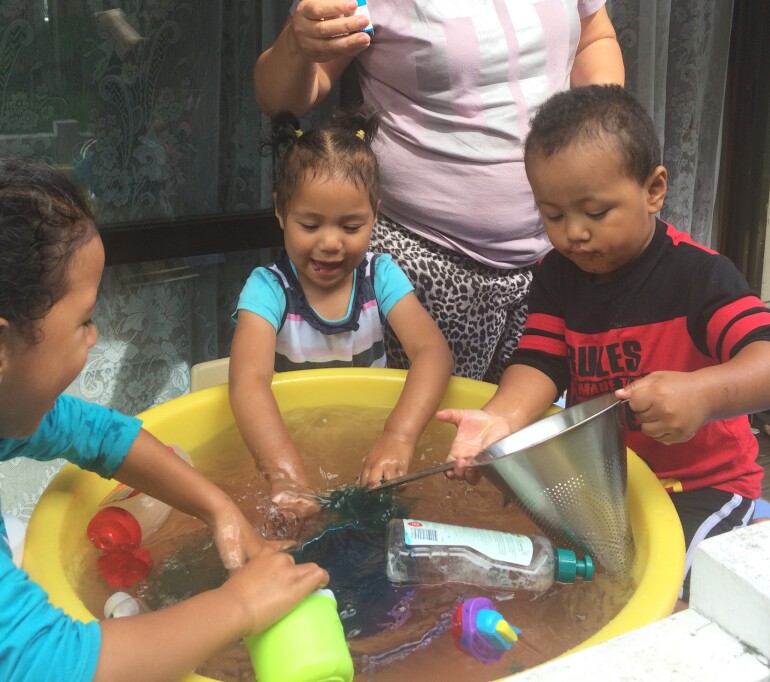 Outdoor Active Movement Ideas
3 January 2019
With summer here, children look forward to playing outdoors in the sunshine. The lure of Papatuanuku is strong within our younger tamariki who have an innate need to connect with the earth and nature. Mother Nature sings her song through the breeze in the leaves of the trees, the chirping of crickets in the bushes, and the songs of the birds flying in the sky, so how could anyone resist this?
"Poipoia te kakano kia puawai; Nurture the seed and it will blossom."
Both fine and gross motor skills can be worked and strengthened during outside play, and tamariki also benefit from learning basic maths and science concepts and refine their spatial awareness, balance, turn taking and negotiating skills while playing together under the sun Te Rā.
Being sun smart, means children can be ready to explore and play with some of the outdoor activities mentioned below.
Create challenge courses – this is great for recycling, or using what is in your garden or shed. Planks, boxes, stools, tree stumps, old mats etc can all be used to create a course to challenge even the most adventurous tamariki.
Sensory trays – These can encourage imagination and exploration, by having different things available for children to explore. These might include sand or water and flowers, stones and animals, leaves, sticks, moss, shells. These can become homes for dinsoaurs, fairy castles, or a space to dig for fossils.
Ice play - this can be so much fun! Explore with different sized ice cubes, blocks or balls; work together to freeze flowers, animals or shells, colour the water with dye, place on a tray and see what happens if you drop rock salt or spray water onto the ice. Droppers or pipettes that can suck up the melted water and squirt it back again can enhance the experience.
Mud/sand kitchens - if you have an area that can support this kind of play, consider ridding your kitchen of unused utensils, pots and pans to create some kitchen inspired play, incorporating mud, sand or water. A small table and chairs or bench and trays can enhance this style of play for tamariki.
Water play - What better thing to do outside in summer than play with water? Hoses, containers, strainers, funnels, tubes, buckets, trays, sprinklers, spray bottles, paint brushes are all great options for water play. Get tamariki to be involved with nurturing the gardens by watering the plants and vegetables.
Loose parts play – set up an area with boxes, bottles, stones, shells, balls, mats, trays, anything that comes to mind and see what exploration this inspires within nga tamariki. You may be amazed at the variety and imagination they come up with in their play!
Chalk and water painting – Let children loose on concrete, fences or garden shed with paint brushes and water. Try chalk on the driveway or pathways, that can then be washed off with the hose or a spray bottle.
Building huts – take some old sheets or blankets outside and throw them over low branches or climbing frames or fences. A good hut can inspire many hours of play.
These are just some inspirational ideas to help you create a fun outdoor play area for children this summer.