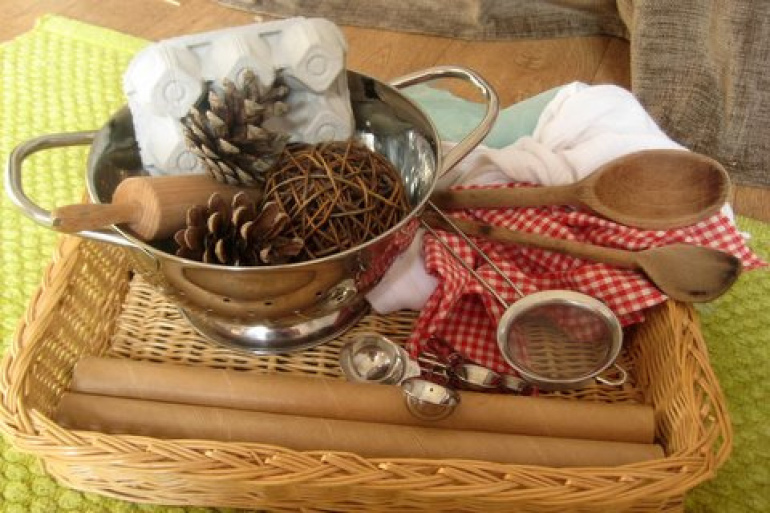 Creating Heuristic Kete
18 November 2023
This month, our Nurtured at Home Educators and Nannies are receiving a little starter-kit of heuristic items. These items can be used to start creating some heuristic baskets/kete for tamariki in the home. Here's how you can create kete filled with a range of everyday objects for children to explore:
Firstly, find a low-sided basket, box or tin that children who are not yet sitting can reach into. Fill it with 10-20 real-life objects. Over time, add and rotate items to help encourage new and different learning experiences and to keep interest high.

Examples of objects to put in your heuristic (or treasure) basket include:
Egg boxes, small boxes with lids, cardboard tubes, baking paper.
Preserving jar rings, rubber door stops, milk bottle lids, rubber balls, measuring spoons.
Napkin rings, metal teapots, metal whisks, keys on a ring, metal cookie cutters.
Shower puffs, bottle brushes, pieces of flannel or material, coloured ribbons, pastry brushes.
Pumice, coconut shells, large pebbles, driftwood, bark, pinecones, feathers.
Wooden bowls, wooden spoons, wooden pegs, wooden curtain rings.
Small mirror, bells, measuring spoons, tea strainers.
What else can you find around the home that might be interesting?
Beyond treasure baskets:
Day to day life also offers a platform for heuristic play. Simple ideas include playing with clothes pegs in a container, playing with objects in a small bowl of water or even banging saucepans with a wooden spoon to explore sound. Being outside provides a natural heuristic space for babies and toddlers too. They can grasp at grass, leaves and flowers in the garden, or play with sand and seaweed at the beach.
The learning outcomes from Te Whāriki for heuristic play include:
Using a range of strategies and skills to play and learn with others | te ngākau aroha
Expressing their feelings and ideas using a range of materials and modes | he kōrero auaha
Playing, imagining, inventing and experimenting | te whakaaro me te tūhurahura i te pūtaiao
Making sense of their worlds by generating and refining working theories | te rangahau me te mātauranga